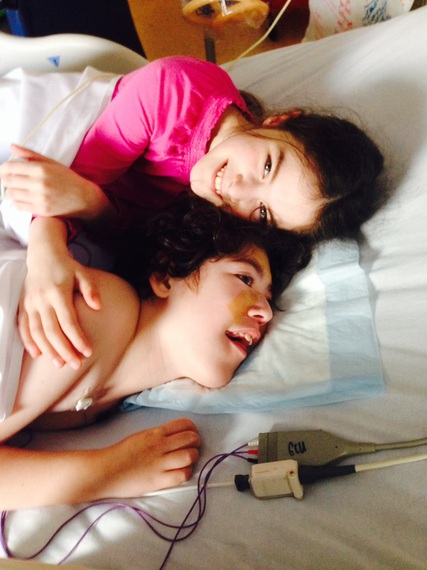 This blog was written by my 12 year old daughter, Jamie Trossman.
Growing up, I learned to treat Jacob like I would if he didn't have
disease (PMD) — except I know not to beat him up. Most girls my age ignore their older brothers. I stopped playing with mine not because he's my big brother, because he's always surrounded by nurses and he never pays attention to me.
Before he got sick and spent almost a year in the hospital, I remember pretending that my Barbie was his girlfriend and learning that he loves the sound of sneezing, swimming, music and bright colours. I knew his preferences as well as I knew my twin sister's.
Over the course of the last few years, Jacob spent over 200 days in hospital. I spent a lot of time with him then, trying to cheer him up, reading to him, watching movies with him and lying on his bed with him. When he was in the hospital, I began to realize how sick my big brother was and what PMD really meant in terms of quality of life.
And then, a few weeks ago, our roles were reversed. He finally got a chance to be the healthy …read more
Source:: The Huffington Post – Canada Sports
(Visited 1 times, 1 visits today)